Influencers Devotionals, Blog
Abiding Treasure: The Test of Abiding by Bryan Craig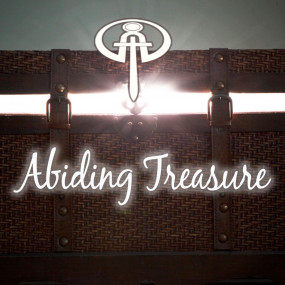 SCRIPTURE:
1 John 4:7-21
Beloved, let us love one another, for love is from God, and whoever loves has been born of God and knows God. Anyone who does not love does not know God, because God is love. In this the love of God was made manifest among us, that God sent his only Son into the world, so that we might live through him. In this is love, not that we have loved God but that he loved us and sent his Son to be the propitiation for our sins. Beloved, if God so loved us, we also ought to love one another. No one has ever seen God; if we love one another, God abides in us and his love is perfected in us.
By this we know that we abide in him and he in us, because he has given us of his Spirit. And we have seen and testify that the Father has sent his Son to be the Savior of the world. Whoever confesses that Jesus is the Son of God, God abides in him, and he in God. So we have come to know and to believe the love that God has for us. God is love, and whoever abides in love abides in God, and God abides in him. By this is love perfected with us, so that we may have confidence for the day of judgment, because as he is so also are we in this world. There is no fear in love, but perfect love casts out fear. For fear has to do with punishment, and whoever fears has not been perfected in love. We love because he first loved us. If anyone says, "I love God," and hates his brother, he is a liar; for he who does not love his brother whom he has seen cannot love God whom he has not seen. And this commandment we have from him: whoever loves God must also love his brother.
THOUGHT:
We have learned in The Journey that "Abiding" is the key to bearing fruit and becoming the disciple of Christ that He intends. Even though this resonates with our souls and spirits, it still often feels elusive and unattainable. This beautiful passage in 1 John seems to give some clear evidence we can use to test whether we are abiding or not. I've always believed that even though God is mysterious in many ways, He is NOT a God of confusion. I like it when He makes things clear to me.
Evidence that we are abiding….
Do we have love? (verses 7-10) God is love, so if we do not have love in our hearts, we do not have God. He gives His love to us freely, to all who want to receive it.
Do we love others? (v. 12) The Word says that IF we love one another, God abides in us and His love is perfected in us.
Do we have His Spirit? (v. 13) This causes us to refer back to John 15 which says if we Abide in Him, we bear fruit. Galatians 5:22-23 talks about the Fruit of the Spirit. So, we can assess whether we have the Spirit first by seeing if we have love, joy, peace, patience, kindness, goodness, faithfulness, gentleness, self control. Secondly, we can assess whether we see the Spirit's gifts at work in us.
Do we confess that Jesus is the Son of God and the Savior of the world? (v. 14-15) The Word clears states that whoever makes this confession is one whom God abides in and he in God.
Do we abide in love? (v. 16-17) We must remain in Love so that we can remain in God. As our love continues, it is perfected.
Do we have fear? (v. 18) Abiding = Love and those who love have no fear…of death, of evil, of lack of provision, of God.
Do we hate anyone? (v. 20-21) We cannot love God and hate others. If so, we are not abiding in Him.
APPLICATION
This tells me that the secret to an abiding life is LOVE. Why is this so simple, yet so difficult? Every day, we can test our hearts. We can ask God to do a Love X-Ray scan. Are we loving Him? Are we loving others? Do we sense the Spirit's presence? Do we really believe Jesus was and is Who He said He was? Is love everpresent or barely present? Are we afraid of anything? Do we hate anyone?
These questions do probe my heart. Can I enter into 2023 with a heart full of Love? This is my prayer. As a matter of fact, I think this will be my "word" for the year. LOVE. Four letters that mean SO much. It truly is what I need, and it's what the world needs. Love, love, love. It may sound sappy or sentimental or something reserved for Valentine's Day, but I'm evermore convinced that this is the answer.
I want to be a source of love for others, not just my family, though they come first, but for everyone I meet and even people who may not like me.
The verdict is in…If I'm not Loving, I'm not abiding!
RESPONSE
Lord, I love you. I really do. I know I may not act like it sometimes. I know I seem to love the things of this world more than You so often. Please forgive me. Also forgive me for taking all of the love You give me and keeping it to myself. Let me give it away to everyone I meet. Others may need to know that Love is possible. They may need a smile, a hug, an encouragement, a word from You. Thank you for your Love. It really is what makes life worthwhile, and it helps me take my eyes of worthless desires. Thank you for your abiding relationship with me. Again, I love you.