Blog
Honoring Ron Froehlich, a True Influencer by Bryan Craig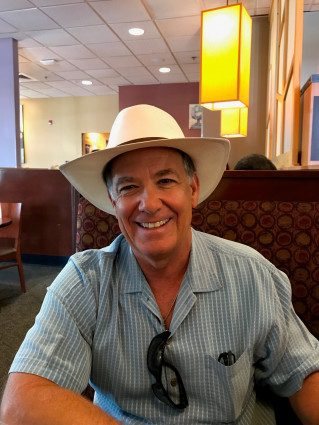 One of the key leaders and pioneers in Influencers Bakersfield is now understanding "abiding in Christ" more fully as he left us to be in the Lord's presence last week. Ron was a successful businessman in Bakersfield as a homebuilder but 12 years ago, his life was drastically changed when he gave his life fully to Jesus as part of a Journey Group. This confident, self-assured man was broken, and his perspective began to change. Those who knew him best saw the softening and the shift. One man heard him say, "I just realized God has given me so much manna, but it's rotting because I'm storing it all up for tomorrow." Not long after, he began to invest generously and sacrificially into God's Kingdom.
When Ron discovered the "Souly Business" spiritual retreat out of Atlanta, he became convinced that this was needed in Bakersfield to reach men as an on-ramp for The Journey. He helped send 100 men to Atlanta in the next few years so they could experience it and bring it back to Bakersfield. He said, "What better investment can a man make than one that will impact a man's wife and kids forever!" Ron was also one of the first Board members in Bakersfield, coming alongside Les Pearsey, committed to supporting this mission to help his community find what he had found, an intimate, abiding relationship with Christ.
It was also Ron who famously gave Henry Gutierrez, his pastor when in Costa Rica, a box of Journey books, which became the seeds to become a major discipleship movement in Costa Rica and into Latin America and South America. Ron and others helped Henry form a Board in Costa Rica and a non-profit called "A Toda Vela", which means "Full Sail". I was privileged to serve on this Board with Ron and Mary Ann. This man, whom I had known and admired from afar, I now got to know much more personally. I loved seeing the love that Ron and Mary Ann had for the Lord and for Henry and Eugenia and the Costa Rican people. They carried the burden to help support all of these poor churches and pastors in Costa Rica who needed mentorship and basic needs. They came alongside Henry and Eugenia, holding their arms up and helping them take the courageous step of faith of leaving their church to pursue this new calling of Making Disciples and Shepherding Pastors.
In every one of our Board calls, I did not see Ron, the successful businessman. I saw Ron, the lover of Jesus, who wanted to make sure that everything was about Jesus. To the very end of Ron's life on this earth, everything was about Jesus.
I asked one of Ron's dear friends and co-Bakersfield Board member, Greg Marchand, about Ron and he wrote this:
Ron came from a generation of principles and values built on top of integrity, hard work, and dedication to worldly success. He was a man of incredible stature thru and thru. Ron was focused on success for many years, as the world labels it.
God got Ron's attention as the years unfolded, and he shifted 100%. He made an exchange. That exchange was his heart for the Heart of Jesus, and he was all in. This exchange rippled into everything he did forward and everyone Ron encountered. Ron's personal, social, and business life, and most of all, his quiet time. Ron expressed his love for Jesus in every footstep he took.
God formed Ron into a mighty ambassador, in which he lived out loud in everything he did, bringing his family, friends, and all people around him to know Jesus. Ron's generosity was endless toward the growth of others pursuing Jesus. It came to be that Ron's greatest joy in life was seeing a heart won for Christ—anywhere, anytime, and all the time.
God's love designed and perfected Ron's soul, and he played it all out for his Heavenly Father.
He was available.
Ron was a mender of souls and gifted in speaking into a man's heart. He loved people and their pursuit without judgment and met people where they were, encouraging and lifting others to be their best and helping them find Jesus. Ron's beliefs and actions were infused at his core by the Holy Spirit. His identity was in Jesus, and if there has ever been a man I knew that I witnessed changed and the power of Godly transformation by Jesus, it was Ron Froehlich. Meeting Ron, it took a few minutes to realize how much he loved Jesus.
Ron is a man for God that has Finished Well! I am sure he is just getting started in Heaven, and God is filled with joy to have him in his grip. Ron was my friend, and my life and walk with Jesus are more extraordinary because of our friendship. We will miss Ron physically. However, he will remain with us wherever we go reminding us to live for Jesus. OUTLOUD! Ron's footprints of love for his heavenly Father are everywhere. I will miss Him, but I'm excited to see him again someday.
One of Ron's favorite verses is Romans 8:38-39:
For I am sure that neither death nor life, nor angels nor rulers, nor things present nor things to come, nor powers, nor height nor depth, nor anything else in all creation, will be able to separate us from the love of God in Christ Jesus our Lord.
There isn't anything that we have done, should have done, or that's been done to us that can keep God from loving us. His love is constant and unstoppable. Know that the Lord is with you today and loves you beyond measure!. I will have something to look forward to when I get to Heaven- A hug from my dear brother Ron. It's impossible to sum up such a man's life as Ron's in a few words. The first thing that comes to mind is that if you knew Ron, then you knew the struggles of a man can be transformed by Jesus and forged into a Man for God. To know Ron, then you would know Jesus.