Blog, Influencers Devotionals
"In Step With The Spirit" by Jaime Lind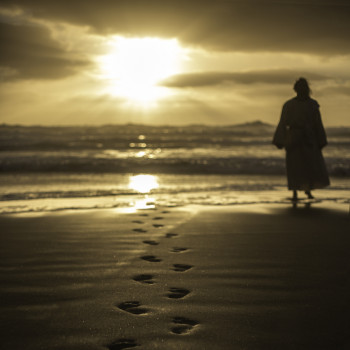 "If we live by the Spirit, let us also keep in step with the Spirit."
Galatians 5:25 ESV
So what does it mean to be in step with the Spirit? We all want to be hidden in Christ, enjoy His perfect peace, walk in His perfect will, bear the fruit of His Spirit in our lives…. But how does this happen? What role do we have to play in bringing this reality into our daily lives?
First and foremost, we must SURRENDER… every single day, even multiple times a day. When you have accepted Jesus Christ as your Savior and Lord, you belong to Him… your thoughts, will, emotions and to-do list are all His for the taking. When we hold on to what is no longer ours, we erect a barrier to the work of His Spirit in and through us.
"I have been crucified with Christ. It is no longer I who live, but Christ who lives in me. And the life I now live in the flesh I live by faith in the Son of God, who loved me and gave himself for me."
Galatians 2:20 ESV
Second, we DRAW CLOSE. Intimacy is the key to staying plugged in to the source of God's manifest presence in our lives. He has revealed Himself to us in His written Word, and through His creation all around us. Look for Him. We've been given a beautiful gift and privilege of communion with the Father through worship and prayer. Speak to Him. Tell Him what you love about Him. Cast your cares upon Him. Receive His love. Be filled up so that you can be poured out.
"Let us then with confidence draw near to the throne of grace, that we may receive mercy and find grace to help in time of need."
Hebrews 4:16 ESV
"For this reason I bow my knees before the Father, from whom every family in heaven and on earth is named, that according to the riches of his glory he may grant you to be strengthened with power through his Spirit in your inner being, so that Christ may dwell in your hearts through faith—that you, being rooted and grounded in love, may have strength to comprehend with all the saints what is the breadth and length and height and depth, and to know the love of Christ that surpasses knowledge, that you may be filled with all the fullness of God."
Ephesians 3:14-19 ESV
Third… OBEY. His ways are higher than our ways, His thoughts are higher than our thoughts (Isaiah 55:9). The voice of God comes from within, it is a still small voice (1 Kings 19:12) that speaks quietly to our spirit. We must be drawing close and eliminating distractions to hear. And when we do hear what He's saying, it doesn't always make sense to us, and we very well may not like it or agree.
I recently heard a precious woman of God issue a reminder that 'delayed obedience' is not obedience. As parents, we expect that our children will obey us "immediately, cheerfully and completely". As children of God, our response to the Father in Heaven must be the same.
"But he said, "Blessed rather are those who hear the word of God and keep it!""
Luke 11:28 ESV
As we choose, daily, to ABIDE in Christ (John 15) and to seek first His Kingdom and righteousness (Proverbs 3:5-6), He will give us all we need for a truly abundant life (John 10:10) ... full of passion, purpose, peace and power.
Continue to press in, Beloved of God, and open the flood-gates for His Living Water to flow freely through your life. ❤️