Blog
Stairway to Heaven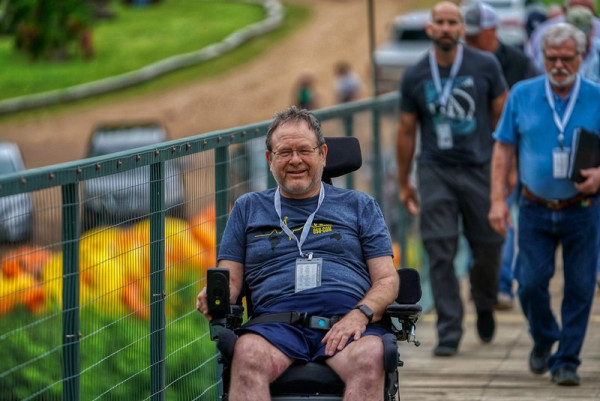 My Journey Co-Guide left this earth last week to be with the Lord. This has never happened to me in all the groups I've led these past 15 years. Ken Miller was a Journey Brother from Tulsa who had battled ALS for the past 10+ years. Let me tell you an interesting story about Ken. I met Ken in 2019 when he desired to attend our national conference at Shepherd of the Ozarks in Arkansas. He was confined to a wheelchair, and we made some special arrangements for him to be able to come to the conference, even though this facility was not very handicap-friendly.
On the first morning of the retreat, Rocky gave a rousing talk, challenging men to be "All-In" for God and to "empty their backpacks" which represented anything in their life that had been holding them back from the abundant life of abiding that Christ offered. Then, in a ceremonial act, he invited them to leave the auditorium and cross the long bridge outside the building, representing a walk toward new life. Ken Miller wanted to go across that bridge! However, there were some stairs leading up to the bridge platform that prevented his motorized wheelchair from entering.
Somehow, word got around that Ken wanted to go across, and men started trying to figure out how to make it happen. Thomas Woods, from Bakersfield, led the charge. A plan was formed as Thomas lifted Ken out of his wheelchair and carried him up the stairs, while a group of men lifted his 500 lbs wheelchair up the stairs as well. Ken was elated as he rode across that bridge to freedom! It was a significant event that never left him.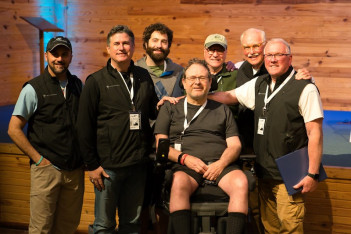 Fast forward to this year, as I was leading a Guide Mentoring group via Zoom in early June. I announced this via email and on the first day, Ken showed up. He was homebound, being moved between his wheelchair and his bed. The disease had taken over most of his bodily function in the last 2 years, but miraculously, he still could talk. He wanted to lead a Journey Group, despite his bodily limitations. I was blown away. This man was a true disciple of Jesus Christ who wanted to please his Father by making disciples, NO MATTER WHAT! He did not have a Co-Guide, and I was about to start a Virtual Journey Group, so my Co-Guide and I asked him if he would lead with us. He happily accepted.
During our Mentoring Group, Ken was asked to deliver the sermon on Father's Day at his large Methodist church. During his presentation, he talked about Thomas and these men coming alongside him to help him at that Influencers retreat. It was a beautiful sermon and very touching. KEN MILLER'S FATHER'S DAY SERMON
I felt led to tell Thomas about Ken's sermon, even though I had not talked to him in quite a while. Little did I know that Thomas had been in a rough spot in his faith. The trials of life had thrust Thomas into darkness, and he was doubting. When he watched Ken's sermon, it was a gift from God. The Holy Spirit took him back to that moment at that retreat when his faith was alive and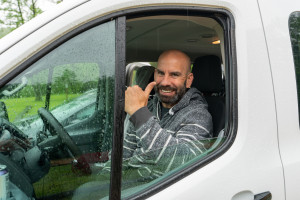 strong. He later told Ken that he had carried him up the stairs to that bridge in 2019, but Ken had carried him up the heavenly staircase to the Father. Thomas' faith and love of the Father were renewed. And Ken and Thomas, two unlikely brothers, had a special relationship these past few months, praying for each other.
Ken has been a faithful Guide in our Virtual Journey Group. From the moment our men saw Ken in his bed through his Zoom camera, they were in awe of his faith and his commitment. He could not even utter more than 5 or 6 words, but his impact on their faith went way beyond words. He had many rough days and weeks, even going through COVID, but he was faithful to make almost every Journey group meeting and our Guide meetings each week. The guys noted how he always had a smile on his face, even when he was struggling just to breathe.
The Thursday before he died, he told Bill, our other Co-Guide, and I, that he wanted to open the meeting and welcome the men to the group. Despite his health worsening, he was more vocal that day than he had been the whole time. It was a beautiful final scene in the life of this disciple-maker. Our group will never forget the experience of seeing a man serving the Lord to his final breath.
And when I think of how God orchestrated that bridge experience back in 2019, only to bring it full circle back into Thomas' life 2 years later, I praise God for His faithfulness and how He does extraordinary things through ordinary men who abide with Him.
At our recent Journey group meeting since Ken's departure, the men expressed their thoughts about Ken. One of them said it reminded him of John 9:1-3, when Jesus encountered a man, blind since birth:
As he passed by, he saw a man blind from birth. And his disciples asked him, "Rabbi, who sinned, this man or his parents, that he was born blind?" Jesus answered, "It was not that this man sinned, or his parents, but that the works of God might be displayed in him."
God used Ken's affliction, just like this blind man, to display the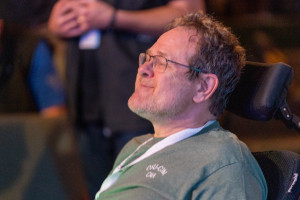 works of God. I just feel so blessed that I got to know Ken and witness God's works through him.