Blog
Take Up Your Cross by Jaime Lind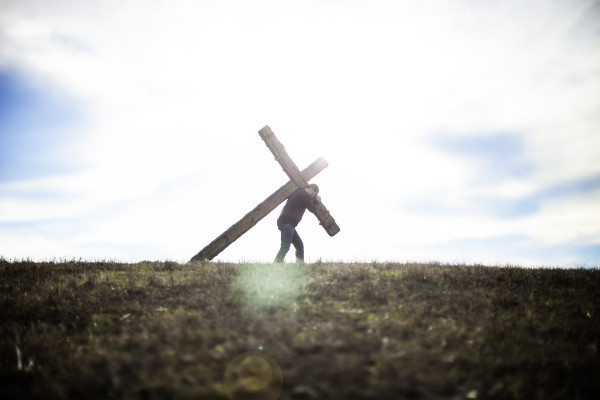 As I sat with the Lord this morning, I heard Him say "I have called you to take up your cross daily and follow me…. Do you understand what this means for your life?"
MATTHEW 16:24-26
"Then Jesus told his disciples, "If anyone would come after me, let him deny himself and take up his cross and follow me. For whoever would save his life will lose it, but whoever loses his life for my sake will find it. For what will it profit a man if he gains the whole world and forfeits his soul? Or what shall a man give in return for his soul?"
The first part of this command is to "DENY OURSELVES." Can you think of a more counter-cultural request than that? Jesus faced greater adversity in his short life on the earth than we will ever likely see in ours, and yet He never sinned (2 Corinthians 5:21) – was never overcome by temptation, never responded without seeking the will of the Father and never gave in to the emotional urges of his flesh. Why? Because He knew that he needed to remain a pure and acceptable sacrifice as propitiation for the sins of all mankind (Hebrews 10:12)… How? By full SUBMISSION to the power of the Holy Spirit.
So, what about the cross? The cross (which He was forced to carry on His own shoulders to the place where He would be crucified) was an instrument of the CURSE of death… (Deuteronomy 21:22, Galatians 3:13). By his obedience in preserving himself in complete purity and holiness, and by taking the full penalty (the curse) upon himself, Jesus's death effectively broke the power of all other curses.
To TAKE UP OUR CROSS, daily, is to be continually reminded that by grace, through faith in what He has done, we too have been crucified with Christ. (Galatians 2:20) Our sin, our shame, our guilt, and our compulsions to serve anything or anyone apart from God (especially self) have been put to death.
He died, so that we might live; (1 Thessalonians 5:10) He was imprisoned and punished so that we might experience freedom... The freedom we find in Christ is TRUE, unconditional, irrevocable freedom- Freedom that is not contingent upon anything other than our faith and fellowship in an abiding relationship with Him, who died and rose again and is now seated in the place of ultimate honor and authority, at the right hand of the Father in Heaven. (Hebrews 10:12) Christ has gone on ahead of us and stands now to intercede, advocate and prepare a place for us in the eternal realm. (1John 2:1)
He also sent His very Spirit to dwell within us. (1 Corinthians 3:16) Being the very same Spirit who empowered Jesus as the Son of Man to live a sinless life; to faithfully seek and serve the Fathers will; to patiently endure unspeakable pain, suffering, ridicule and death; and then be raised to NEW LIFE- free from the limitations, hindrances and struggles of the flesh ... GLORIFIED!
It is important to note here that apart from Jesus's death on the cross, there could be no resurrection, ascension or glorification. Jesus had to die. The work of the cross is undeniable…. It brings death to the flesh, to make way for life in the spirit. As born-again believers in Jesus Christ, we must continually remind ourselves of this truth, consigning to death EVERYTHING within us that works against the will of God, through the resident power and Lordship of the Holy Spirit within us. Any residual desires, thoughts or activities of our life in the flesh must be nailed to the cross, so that we may walk in the new identity, empowerment and authority we have been given. (Galatians 5:17)
The third part of Jesus's instruction was to FOLLOW HIM. He endured all this as a forerunner, a first-fruit of the Father's Kingdom, so that through faith in Him (receiving His forgiveness; being born to new life in the Spirit of God) we would follow in His footsteps; entering into new levels of revelation; walking in new levels of authority and partnering with Him in the spirit as citizens of Heaven and ambassadors on the earth… fulfilling our divine purpose as part of a great commission to deliver the message of TRUTH and pulling down every lie and deception; breaking every chain of bondage forged by the curse that has already, forever been broken at the cross.
Father, in the Name of Jesus- I ask you to help your children, your Church, the Bride of Christ- to come into deeper revelation of Your Son's death, resurrection and ascension. Help us to embrace this as a blueprint for our own lives.... that we might walk in the fullness of what you have prepared the way for us to be, experience and accomplish, by the power of your death and new life in us. For in you we live and move and have our being…. To You be all the honor and glory and power, forever and ever… Amen and Amen!
2 CORINTHIANS 4:7-18
But we have this treasure in jars of clay, to show that the surpassing power belongs to God and not to us. We are afflicted in every way, but not crushed; perplexed, but not driven to despair; persecuted, but not forsaken; struck down, but not destroyed; always carrying in the body the death of Jesus, so that the life of Jesus may also be manifested in our bodies. For we who live are always being given over to death for Jesus' sake, so that the life of Jesus also may be manifested in our mortal flesh. So death is at work in us, but life in you.
Since we have the same spirit of faith according to what has been written, "I believed, and so I spoke," we also believe, and so we also speak, knowing that he who raised the Lord Jesus will raise us also with Jesus and bring us with you into his presence. For it is all for your sake, so that as grace extends to more and more people it may increase thanksgiving, to the glory of God.
So we do not lose heart. Though our outer self is wasting away, our inner self is being renewed day by day. For this light momentary affliction is preparing for us an eternal weight of glory beyond all comparison, as we look not to the things that are seen but to the things that are unseen. For the things that are seen are transient, but the things that are unseen are eternal.